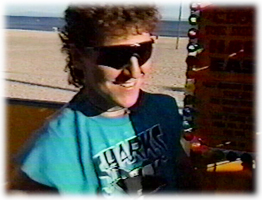 Hello, and welcome! As you can see, the old site has changed and grown by leaps and bounds! There's tons of stuff to see here, and more will come in the future! This page will keep you updated on changes/additions to the site.
There's tons of pics, games, info, and other goodies. Have fun while you're here and drop us a line; let us know what you think. Also, please let us know if there are any dead links.
The Holidays are upon us; be sure to check out our Elvis Holiday postcards (The earlier error with the postcards has been fixed).
I (Stacey), your trusty Webmaster, am moving this week so I will not be able to do much with the site for a couple weeks until I get settled, but I will be back! If you E-mail me photos, questions, comments, etc., I will eventually get back to you, so just hang tight.
Don't forget to tune in to USA On Thursday night, December 2 to see Elvis live at the Improv! Also, The Christmas Angel will be repeating on the 4th. Those with CTV, don't forget about the Sears Canadian Open on the 4th as well.