ART PAGE
Any artists out there? Share your Elvis-inspired artwork with everyone! You can submit art to the Webmaster (Stacey) at stojkorules@yahoo.com.
In the meantime, check out the work of Mary-Justine at her Elvis Stojko Gallery. She is a very talented lady!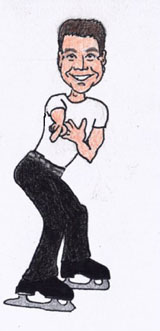 Elvis Cartoon copyright 1999-2000 by Diane
Thank you, Diane!
Please visit Diane's Skating Cartoons Page for other cartoons!