BIOGRAPHY
Olympics in Nagano, Japan were coming up, and the 1997-98 season was spent preparing for them. Elvis chose the music of Kodo drums for his SP-one of the most technically challenging SPs ever. His LP was from the movie Ghost in the Darkness. Elvis did well that season, winning most of his competitions. His performance at the Canadian Championships in Hamilton were his best ever, winning 8 6.0 marks from the judges. Little did everyone know, Elvis had injured himself there, pulling his groin muscle. It certainly didn't show in his skating.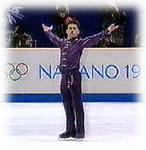 At Nagano, the Media could tell something was wrong with Elvis. He was skating with caution during practices if he showed up at all. Rumors of illness and injury were flying. He skated his SP well, but with caution. Something was wrong. However, he placed 2nd, still in contention for the gold. When Elvis came out for the warm up of the LP, it was obvious that something was wrong. He barely moved during the warm up, and when he did attempt jumps, their landings were not the usual solid ones. He even fell into the boards once. However, he managed to skate his program cleanly, landing all of his planned jumps except the quad toe combination, which was replaced by a triple toe. He placed 3rd in the LP, placing second overall. Once again, he won silver. After his skate, it was obvious he was in immense pain. He was helped off the ice and escorted out of the arena after receiving his marks. Elvis showed up for the medal ceremony in sneakers. The world wanted to know what happened. Finally, the groin injury was revealed, and it was told that a case of the flu had caused Elvis glands to swell, aggravating the injury. During the LP, Elvis also ripped his abductor muscle trying to compensate for his weak groin. Elvis said he wanted to skate at the World Championships, but it proved to be impossible. He would not be skating for a long time.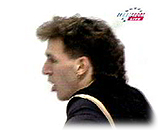 Elvis started skating again that June, and introduced the sport to himself again slowly. Regardless, he signed up for the Champion Series again during the 1998-99 Season. The rehabilitation proved to be a slow, painful process. Much of the problem was due to the fact that his training was behind the other skaters. Determined, he skated relatively well at Skate America to a skeleton of his LP, Merlin. He placed 4th. However, the Media jumped on his placement, saying he was washed up. Elvis didn't give up, and again skated well at Skate Canada, placing 2nd. Again, the Media criticized his decision to stay eligible. However, he plugged on. At the Canadian Championships, for the first time in years, he placed 2nd after the short program due to a strange fall on a triple axel. In a familiar theme, he came back in his LP to win the championship once again. The Media continued to be harsh on him, even though his skating was obviously getting stronger and his LP, Merlin, was upgraded to a more complete level. At the World Championships in Helsinki, Elvis once again proved he could still skate with the big guns, placing fourth overall. However, this was still not good enough for some of the media. In an interview, Elvis said that he was happy with his skate and was skating for himself, not the media.
Over the summer, there was much pressure on Elvis to make a decision on whether he should go pro or stay eligible. However, Elvis decided that some changes were needed. In a much controversial decision, he left longtime coach Doug Leigh to train full time with his Stylist Uschi Keszler. In June, Elvis also announced that he was staying eligible. As usual, Elvis was doing his own thing and going against the grain.
The 1999-2000 Season is already proving to be great for him. His new short (Eclipse) and long (The Phantom Menace) programs have garnered him the Bronze and Silver medals at Skate America and Skate Canada, respectively.
[ Written by Lynn Fischer ]